Q. I would like to give to LifePoint Church. Where do I start?
A: LifePoint offers various way to contribute; all united into one platform called Planning Center. Here are a few ways to give:
1. On our Website.
Use a computer or mobile device to navigate to https://lifepointpa.churchcenter.com/giving
Once the page loads, you will see something like this: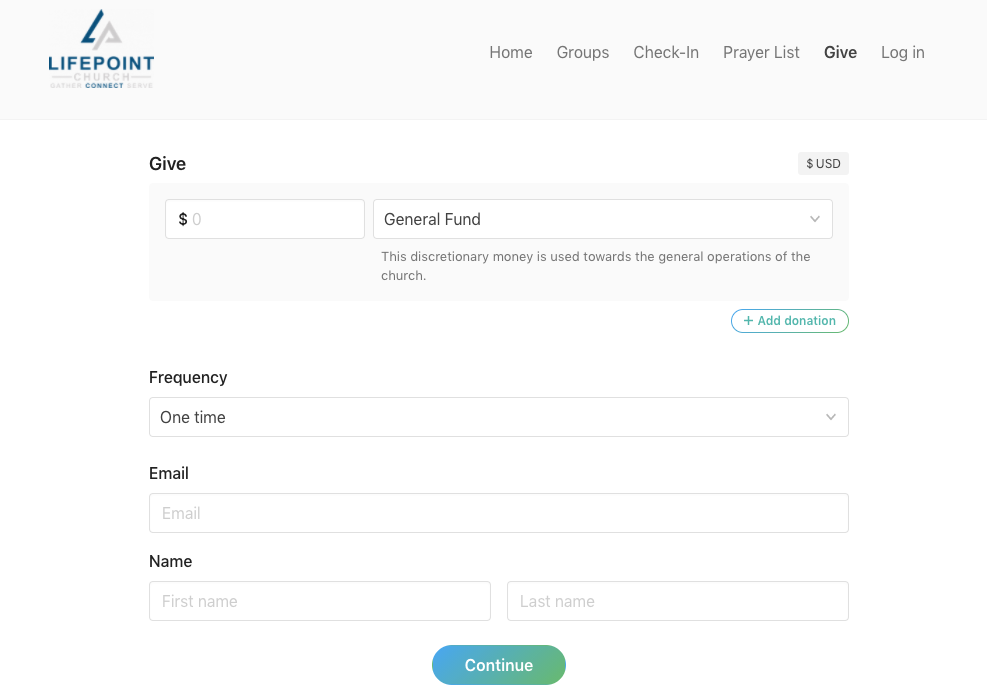 You can choose to login first, if you are already connected to Planning Center and know your login information; or you can proceed to fill out the fields requested.
The first field represents the dollar amount (USD) that you would like to give.
The second field is where you can designate your giving. Most often, you would select "General Fund", but other options become available during special events or functions.
The third field indicates whether this is a one time gift, or if you would like to give a designated amount in a predetermined frequency.
Simply fill out your name and email, click on "continue" and the site will guide you through any remaining details that you need to fill out, such as your giving method (Credit Card, EBT, etc), or Password if you would like to create one for easier access later on.
2. You can access the same giving gateway through the "Give" function on LifePoint's Church Center App.
The app is available HERE on iOS devices, or HERE on the Google play store.
3. You can Text to give.
Text-to-Give donors can initiate a donation by texting the amount of their donation to 84321.
Setup
When a donor initiates their first Text-to-Give donation, our system will respond with a message that includes a setup link. Tapping this link will take them to their mobile browser, and walk them through these steps:
Find your church: Givingwill use the donor's geographical location and phone number to suggest churches nearby (within 20 miles). If your church is not listed, or the donor isn't within the geolocation radius, they can search by your church's address, city, or ZIP code, and filter results by church name.
Log in to your profile: After choosing a church, donors will be asked to enter their name and email address to either create a new donor profile (first time donors), or log in to access their existing donor profile (returning donors).
Add or select a payment method: First-time donors can add a payment method to be used for this initial donation and future donations. Existing donors can log in to their profile to select a previously saved payment method.
Submit the donation: Once a donor submits their donation, this will initiate that first donation and enable Text-to-Give for future use.
After setup, donors can simply text their donation amount to 84321 to initiate an online donation.
Donors can only have Text-to-Give enabled with one organization at a time. If a donor has given via Text-to-Give to another church that uses Giving in the past, they must disconnect from that other organization before they can set up Text-to-Give with LifePoint Church.
Q. I gave to LifePoint Church using CCB. Why is Planning Center suddenly here?
A: LifePoint is transitioning to Planning Center. CCB was a good system, but Planning Center has proven to be easier to use and has a lower front-end cost. Your financial transactions, giving records and any personal information continue to be very secure.
Q. How do I move from CCB to Planning Center?
A: We are asking all donors who gave regularly through CCB to transition to Planning Center prior to January 1. This is both to lower our transition costs and to provide the very best experience for all who give. Getting out end of year tax statements and providing quick answers on any questions about where money goes are made easier by this deadline being met. To change from CCB to Planning Center:
Login to CCB and complete these 3 steps:
Click the

Give

menu in the left navigation menu.
Click on the

Schedules/History

tab.
Click the

Cancel

link by the repeating gift you wish to stop
Then, scroll up and follow the steps listed under the first FAQ question.
Thanks for transitioning with us!
Q. Just how safe is Giving through Planning Center?
A: Planning Center uses Stripe to process all payments. Stripe is a worldwide company used by literally millions of companies including Microsoft, Amazon and Google. It is classified as a PCI Level 1 provider, which is the highest rating a payment processing company can receive. Rest assured, your donations and information are safe.
Q. I still have questions. Who do I talk to?
A: Please feel free to contact our church office at . We will do our best to troubleshoot your specific difficulty with all due speed.